From Berat to Gjirokaster - one visitor's impression
Thanks to Agron Alibali for calling my attention to this article.
My question:
Did the writer/traveler enjoy his visit to Albania or not?
Go figure...
***
Letter from Albania: lost crossroads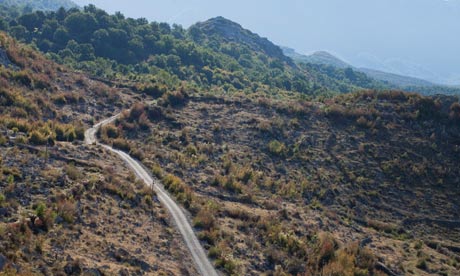 Berat
, city of a thousand windows, lurches up a hillside to an ancient walled castle settlement,
still inhabited. Cobbled alleys as wide as a donkey clamber in twists and turns, and the windows
of the packed Ottoman houses flash in the sunlight.
The modern town stretches away up the valley, but leads to nowhere. To go further south in
Albania
you have to retrace your steps to the main north-south highway, red on the map, or take the old road,
yellow on the map, which is the main route for several hamlets and villages along the way. It fetches
up at the crossroads town of Kelcyre, where you can turn off for
Gjirocastër
, another ancient city.
We take the yellow road. The distance is vague, maybe 50km. The tarmac runs out a few kilometres
from Berat. We climb through a patchwork of fruit trees and olives, closely planted and meticulously
cared for, and catch up with a bus grinding its way from rock to rock across the ravaged road. Bumpy
hours later and in much wilder countryside we come to smooth tarmac, and place bets as to whether
we've arrived at the Kelcyre junction, because none of the tiny settlements we have passed through
has had a sign with a name. We stop for a coffee at a tiny shop, where they are miffed that their village,
Buz Ketu, doesn't appear on our map. They show us roughly where we are – we haven't yet covered
a third of the way. Their tarmac ends just past the houses and an hour later we give up and camp in
the wilds. As darkness falls, tiny lights sprinkle the hillsides and the sound of sheep bells is
accompanied by voices and barks. The landscape is nowhere near as empty as it seems.
Next day our most frequent fellow travellers are the tortoises. We stop regularly to lift them to safety.
A washed-out bridge over a gulley adds to the excitement, but eventually we drop down into Bellaban
village where tarmac of sorts starts again. We can put on a little turn of speed. The last stage to
Gjirocastër on the red road down the Drina gorge seems positively racing.
Gjirocastër, city of a thousand steps, has wide cobbled streets that wind up a hill to a gloomy castle.
As befits the town's position on the red road, young men career their cars up and down for show.
We walk up through the lanes with their gentler Ottoman heritage, and leave the truck to rest awhile.
Every week
Guardian Weekly
publishes a
Letter from
one of its readers from around the world.
We welcome submissions – they should focus on giving a clear sense of a place and its people.
Please send them to
weekly.letter.from@guardian.co.uk